Due to a technical error, this is being reposted from last night.
I have read lots of messages that people have written saying goodbye to 2018 and hello to 2019. I have thought and wondered about what words I would use to do the same and honestly, I find those words challenging to comprise.
There is something in me that isn't ready to release 2018.
And there is something in me that isn't quite ready to embrace 2019.
But that really is silly since it doesn't matter what I am ready for.
Each day will come as it does and ready or not, this year will be 365 days of opportunity, challenge, love, sorrow, laughter, work, invitation, fun, solitude, celebration, family time, regret, success, focus, transformation, and hope.
And so today I reflected on the fact that I don't have a lot of words, but I am willing to choose a stance of embrace for 2019.
2018 was hard in so many ways, but there was so much good as well.
Yes, my Dad died in May of 2018, but that is not all that happened.
Yes, my grief feels like it has a steady stream in my heart, but Joy is also abundant in so many ways.
Yes, my family feels a vast gap in the spaces that Len and my Dad used to fill but we added Ellis this year and we grieve death, but we celebrate life.
Yes, we cried together as a family, but we also grew stronger, hugged, loved, laughed, and strengthened our bond.
2018 changed me and 2019 will as well. I don't have the words yet for all that changed within me as the process is still unfolding. I am confident that 2019 will continue to reshape me.
I am reminded of the words to the Hymn we often sang in Church: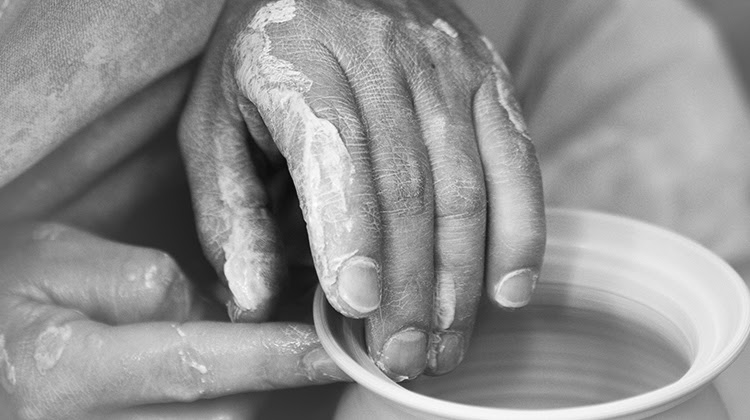 Have Thine own way, Lord! Have Thine own way!
Thou art the Potter, I am the clay.
Mold me and make me after Thy will,
While I am waiting, yielded and still.
I am grateful for the presence of so many good people in my life, and I know 2018 was
possible and even enriched,  because of the love extended to my family and me.
May 2019 be a year where I generously give back to others the support so freely offered to me!
Happy New Year to each and every reader.